NYSC Portal Login Dashboard 2023: This post will focus on everything you need to know on how you can successfully login to your NYSC portal dashboard online for registration, mobilization, senate list, printing of call up letter and others. Continue reading for more Details (guideline and Institution) below:
Are you looking for how to login directly into your NYSC dashboard? If yes, The official NYSC login Dashboard is the right place for you to go.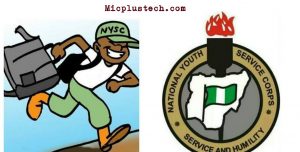 The National Youth Service Corps (NYSC) is a program set up by the Nigerian government to involve Nigerian graduates in nation building and the development of the country. There is no military conscription in Nigeria, but since 1973 graduates of universities and later polytechnics have been required to take part in the National Youth Service Corps program for one year. This is known as national service year.
Check Out Guidelines & Instructions on how you can successfully login to your national youth service corps online dashboard via NYSC portal and how to make use of it.
How to Login to Your NYSC Online Dashboard 2023 Portal
To login to your account via NYSC dashboard portal 2023, follow the steps below;
Go to portal.nysc.org.ng,
Click on login icon,
Enter your Email Address and Password in the space provided,
Click on "Resume"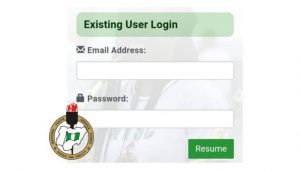 Once you click on "Resume", it will take you to your dashboard.
Note: The email address and password required are those you created during online registration.
You are advised to download NYSC Official Mobile app on Google Play Store. News and Activities of the Scheme at your finger tip.
Things to Do on NYSC Portal Login Dashboard
I am going to briefly talk about everything you can do on the NYSC portal. The first thing is that you can log in to your dashboard to correct your details and make any changes to your information on the NYSC Portal.
1. NYSC REGISTRATION
You can do your NYSC registration right on the NYSC portal. If there is no registration in Progress, the portal will display "No Active Registration".
Immediately the NYSC registration begins, the status will change so that you can be able to do your Registration.
2. NYSC PORTAL LOGIN
Serving Corpers and prospective Corps members who have done the NYSC registration can log in to the NYSC portal login Dashboard.
To log in, you will need your email and password. After that, you will be taken to your own personal NYSC dashboard that contains your information. There is also an option to recover your password in case you can't remember.
3. VERIFY YOUR CERTIFICATE
This is not important to most higher institutions. If your higher institution is a new one or not accredited and you want to verify your certificate, you can do it on the NYSC portal.
4. CHECK PAYMENT STATUS
The NYSC portal login Dashboard is also a place to check the status of any of your payments relating to the NYSC scheme.
5. PRINTING OF NYSC CALL UP LETTER
You can also use the NYSC portal login dashboard to print your National Youth Service Corps Call Up Letter.
The National Youth Service Corps call up letter is that document that will show you your state of deployment, the date you will go camp, the address of the camp you will use and other important details.
6. VISIT NYSC HOMEPAGE
The National Youth Service Corps official homepage is a place you can get news and other updates about the scheme. From the portal, you can visit the homepage.
7. READ FOREIGN PCM REQUIREMENTS
This is specifically for Nigerian graduates from accredited foreign institutions. If you want to read details about your requirements for the NYSC mobilization, you can do it right from the NYSC portal login Dashboard. Check out: NYSC mobilization Timetable
8. SEE PAYMENT GUIDELINES
Many prospective corps members and fresh Corpers who need a hand or detailed information about how to correctly make payments on the NYSC dashboard can do so from the portal.
9. READ FREQUENTLY ASKED QUESTIONS
The NYSC Portal login dashboard is also a place to read some official answers to frequently asked questions about the NYSC. Before you start worrying about finding an answer to questions, the FAQ first.
10. CHECK SENATE LIST
On the NYSC Login Dashboard 2021, please note. During mobilization, prospective Corps members will need to check their names on the Senate list before they can proceed with the NYSC registration.
Right on the portal dashboard, you can check if your name is on the Senate list.
11. READ BIOMETRIC INSTRUCTIONS
Technology has taken over as the NYSC management introduced biometric verification into the NYSC registration.
There are instructions to follow and some important details to know about the Biometric verification and you can read the instructions from this dashboard.
12. SEE ACCREDITED INSTITUTIONS
The last thing you can do on the NYSC portal login Dashboard is checking if your institution is accredited for NYSC.
The NYSC login portal is a very friendly and easy-to-navigate dashboard.
Recommended Links:
NYSC Orientation Course Time-Table/Calendar Schedule For PCMS
How To Check JAMB Matriculation List
Tips to Guide PCMs During NYSC Registration
Do not thumb print by proxy. (Nobody should thumbprint for you).
Make sure the passport photograph uploaded is very clear.
Do not forget the Username and Password used during your online registration.
Apply for correction of spelling mistakes and rearrangement of names on your dashboard. It is ongoing even after the Orientation Exercise.
Cross-check your records before submission to avoid the wrong details.
Thanks For Reading!!!
Read Also: NYSC Orientation Camps In the 36 States Of Nigeria Locations & Addresses | [Nationwide]
We advise you to bookmark this page and always check here for more guideline and updates.
It is expected that after going thoroughly through this article, you will be very well guided on how to login to your NYSC portal dashboard online.
Feel free to share this amazing post with your family and friends.