Latest update on: FUAM Post UTME Screening Timetable
Federal University of Agriculture, Makurdi, FUAM post UTME screening exercise date, time and venue schedule for the 2019/2020 academic session
This is to inform all the candidates that registered for the Federal University of Agriculture, Makurdi post UTME screening exercise that the management has released the test schedule.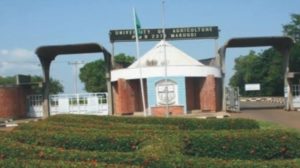 The screening exercise will commence on 9th September, 2019. Candidates are advised to check dates allocated to their various programs of study for screening.
2019/2020 FUAM Post UTME Screening Timetable Schedule below:
DATE

PROGRAMME

9thSeptember, 2019

Agricultural Economics
Agriculture
Animal Science
Crop and Environment Protect
Crop production
Plant Breeding and Seeds Science.
Soil Science

10thSeptember, 2019

Biochemistry
Botany
Chemistry

11thSeptember, 2019

Agricultural Science Education
Education and Physics
Education and Biology
Education and Chemistry
Education and Integrated Science
Maths/Comp/Science Education
Maths/Stats/Education
Stats/Comp/Science Education
Fisheries & Aquaculture
Forestry
Veterinary Medicine
Zoology

14th Sept, 2019

Food Science Technology
Home Science and Management

13th Sept. 2019

Agricultural Engineering
Mechanical  Engineering
Industrial Physics
B. Sc. Physics
B. Sc. Mathematics
B. Sc. Statistics

16thSeptember, 2019
Elect/Elect. Engineering
17thSeptember, 2019
Microbiology
21stSeptember, 2019
Microbiology
19thSeptember, 2019

Computer Science
Banking & Science
Entrepreneurship studies

20thSeptember, 2019

Civil Engineering
Accounting/Agric-Business
IMPORTANT INFORMATION/NOTICE 
According to the timetable, FUAM post UTME screening exercise will commence on 9th September, 2019.