Latest Update On FUD Admission List 2020/2021: This post will focuse on everything you need to know on how you can successfully check Federal University Dutse Admission Status Online Via School And Jamb Portal by yourself it's very fast and easy. Continue reading for more Details (guideline and Institution) below:
FUDutse (1st, 2nd, 3rd and 4th BATCH) — The school management of the Federal University Dutse (FUD) has released the list of candidates offered provisional admission into the University various undergraduate programmes for the 2020/2021 academic session.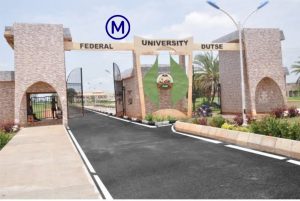 This is to inform all the candidates that participated in the Federal University Dutse (FUD) 2020/2021 admission Screening Exercise that they can now check their admission status. 
Federal University Dutse (FUD) is a Federal Government owned University established in 2011. The university was located in Dutse the capital of Jigawa State Nigeria. Federal University Dutse offer various undergraduate and postgraduate programmes. The university held its first convocation ceremony on January 16, 2016.
FUDutse admission list contains the names of UTME and Direct Entry candidates offered provisional admission into the Federal University Dutse Degree Programmes for the 2020/2021 academic session.
Check out the FUD Admission List for the 2020/2021 academic session recently released and published online by the school management of Federal University Dutse.
Related Posts:
The list of admitted candidates have been uploaded and made available on JAMB CAPS Portal. Candidates who applied for admission in the Federal University Dutse (FUD) for the 2020/2021 academic session can proceed to check if they have been offered admission by the university.
How To Check FUD Dutse Admission List Online
For now, you can only access your FUD admission status from JAMB admission status checking portal, follow the procedure outlined below:
Login to your Jamb profile with your username and password.
Scroll down then locate and click the '

Check Admission Status

' tab.
Select 

your Exam year

 and Enter 

your registration number

 in the required columns.
Finally, click on '

Check Admission Status

' to access your FUD admission status.
You will either see admission in progress check back later, or NOT ADMITTED, or CONGRATULATIONS.
Recommended Links:
FUD Admission Acceptance Fee and Registration Procedure For Newly Admitted Students 
Complete List Of Courses Offered In FUD And Admission Requirements 
Approved FUD Academic Calendar 
How To Obtain FUD Post UTME Admission Form 
FUD School Fees Schedule For New and Returning Undergraduate Students
Successfully admitted candidates are advised to go to JAMB CAPS portal to ACCEPT or REJECT the offer, follow the procedure outlined below:
How To Accept or Reject Your Admission on JAMB CAPS
First visit the JAMB portal at http://www.jamb.org.ng/efacility/.
Login with your registered email address and password to access your dashboard.
Once you have logged in you will see a welcome notice.
Just move down on the page you will see "Check Admission Status".
Click on this "Check Admission Status".
You will be redirected to the JAMB CAPS page
After clicking on "Check Admission Status", you will see a page showing your JAMB details.
Here, you should also see your JAMB admission status.
If you have been given admission, you can now go ahead to Accept or Reject the Admission. This is an important step as it allows the school ascertain that you accept the offer of admission.
NB: Clicking "REJECT" is an indication that the offer of admission has been rejected by candidates
See Also:
How To Check Jigawa State Polytechnic Admission List
How To SLU Admission Status Online
---
You will be able to follow the procedure outlined below once the list is uploaded on the university portal/website.
---
Go to FUD admission status checking portal at http://myportal.fud.edu.ng/.
Locate and Click on the 'Check Admission' button.
Enter your JAMB registration number in the appropriate column.
Finally, click on 'CHECK' button to access your FUD admission status.
We advise you to bookmark this page and always check here for more guideline and updates.
Here are few things you should do once your name is on the list of the admitted candidates:
First, find out the amount that FUDutse is requiring to be paid as acceptance fee for the admission that has been offered to you. Note that if you do not pay FUD acceptance fee, it means that you have rejected the admission offered to you and in that case, you will lose the admission slot to someone else.
The next information you need to find out is FUD school fees for your course or faculty, so that you can get the required fees ready as soon as possible. Note that it is advisable to pay your school fees immediately after paying your acceptance fee.
download and print your admission letter before coming to the University to start the registration exercise.
Upload your O-Level result(s) on the JAMB Portal at the nearest JAMB Office or JAMB accredited CBT Centre immediately if you have not done so. Failure to do this successfully, will prevent access to JAMB Admission Letter on JAMB CAPS.
If the program you are offered is different from what you initially applied for, you are required to make change of course on the JAMB portal to the new programme immediately.
Any admitted candidate who did not accept admission on JAMB profile his name will not be on JAMB matriculation list and will be considered admitted neither is allowed for NYSC mobilization after graduation.
BEWARE OF FRAUDSTERS/CYBER CRIME
Candidates and indeed members of the public should beware of fraudsters who may be fronting as agents of the University to dupe innocent and unsuspecting candidates and members of the general public under the pretence of offering admission to them.
The University wishes to make it abundantly clear that admission into the University is done directly by the University and JAMB and NOT through any third party or agent, please.
For those that their status is showing "Admission Still in Progress" or "Not Admitted" Note that the Admission List will be published in batches on the University's website as they are processed. Candidates are therefore advised to keep on checking this website for the Admission List.
Read Also:
FUDutse Resumption Date For New and Returning Students 
FUDutse Jamb And Departmental Cut Off Mark For Admission
WARNING: Do not give money to anybody for admission!
MPT TEAM Congratulate all the candidates that made it to FUD admission list for the 2020/2021 academic session
Feel free to share this amazing post with your family and friends.