Federal University Dutse (FUD) cut off mark for the 2021/2022 academic session has been released and published online on micplustech.com
The general public are hereby informed that FUD cut off mark for admission into 2021/2022 academic session has been released by the management of the Federal University Dutse.
The federal University Dutse (FUD), received its charter, along with eight other newly established Federal Universities, from the federal Government of Nigeria on February 9, 2011. The University's campus is located in the capital of Jigawa state, Dutse, an ancient town in the north western Nigeria.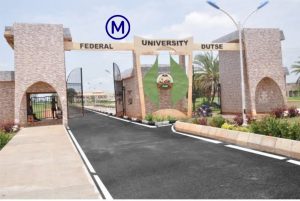 Check out the FUD Cut Off Mark For 2021/2022 Academic Session (JAMB & Departmental) recently released by the school management of Federal University Dutse.
Related Posts:
WHAT IS CUT OFF MARK 
Cut off mark is an agreed score set by a particular institution as a basics of admitting students into the department of study. This score is usually accredited to candidates based on their performance in a particular examination. However, students who have scored above the required cut off mark will be given admission and preferentially treated in admission process above those who have met the exacts cut off mark.
This post is for all those who applied for admission into FUD and has been searching for Federal University Dutse Cut Off Mark to check if the score they had in JAMB can qualify them for admission into FUD for this session (2021/2022).
Candidates/Prospective students are hereby advised to check the FUD cut-off mark before proceeding to apply for the Federal University Dutse Post-UTME Screening Form. See the full details below.
Federal University Dutse (FUD) Jamb Cut Off Mark
The school Authority of the Federal University Dutse has announced the institutional cut-off marks of the six Faculties in the institution (i.e. Faculty of Agriculture, Faculty of Arts & Social Sciences, Faculty of Science, Faculty of Computing, College of Medicine and Health Sciences and Faculty of Management Sciences). FUD general Post-UTME Minimum cut-off mark for the 2021/2022 academic session is 160 and Above.
This means that FUDutse cut off mark is 160 for the 2021/2022 academic session's admission esercise
Due to the high number of students wishing to study at the federal university, the admission processes are competitive and an admission is given based on JAMB score and O'level grades.
Recommended Links:
How To Obtain FUD IJMB Admission Form 
FUD Acceptance Fee Amount And Registration Procedure 
How To Obtain FUD Pre-Degree And Remedial Studies Application Form 
This will be the JAMB score that will be used for admission into FUD for the 2021/2022 academic session.
FUD Dutse Departmental Cut Off Mark
Departmental cut off mark is the minimum cut off mark for admission into various departments in a particular University.
The Departmental Cut of marks of Federal University Dutse are as follows;
Note to Mobile users: Scroll to the side to view all the contents in the table below
FACULTY / COLLEGE

DEPARTMENT / COURSE

2020/2021 UTME CUT-OFF POINT

1
Faculty of Agriculture
Agriculture
160
Fisheries and Aquaculture
160
Forestry and Wildlife Management
160
2
Faculty of Arts and Social Sciences
Economics
170
English Language
170
Linguistic (Arabic)
170
Linguistic (English)
170
Linguistic (French)
170
Political Science
175
Criminology & Security Studies
180
3
Faculty of Computing
Computer Science
180
Cyber Security
180
Information Technology
180
Software Engineering
180
4
Faculty of Science
Biotechnology
180
Botany
170
Chemistry
165
Environmental Management & Toxicology
170
Mathematics
160
Microbiology
180
Physics
170
Zoology
170
Biochemistry
185
Biology
170
5
College of Medicine & Health Sciences
Human Anatomy
180
Human Physiology
180
Medicine & Surgery (M8BS)
250
6
Faculty of Management Sciences
Accounting
160
Actuarial Science
170
Banking and Finance
160
Business Administration
170
Taxation
160
Note: The cut off mark for each varies depending on the performance of candidates who applied to study in the school for that year.
See Also: SLU Jamb And Departmental Cut Off Mark For All Courses
FUD Post UTME Eligibility
Candidates who score exactly or above 160 cut off mark
UTME Candidates who chose Federal University Dutse as their first choice of institution
Candidates with a minimum of (5) O' level credit passes in relevant subjects (including English Language and Mathematics) at GCE O'Level, WASCE, SSCE, NECO or approved equivalents at not more than 2 sittings.
Candidate must be at least 16 year of age
Interested Candidates who did not choose Federal University Dutse as their First Choice of Institution during the UTME Registration but wish to study in the University and scored 160 & above in the 2021 UTME, should change to the FUD via JAMB website.
N/B: It is very easy to obtain admission if one has met the required cut off mark for admission into a particular course.
Read Also: Federal University Dutse Resumption Date For New and Returning Students
We advise you to bookmark this page and always check here for more guideline and updates.
MPT TEAM want to congratulations all candidates who score exactly or above FUD cut off Mark and wish you Good luck /success
Feel free to share this amazing post with your family and friends.