Latest Update On Reprinting JAMB Exam Slip 2023/2024: This post will focus on everything you need to know on how you can successfully reprint The Joint Admissions and Matriculation Board (JAMB) 2023 UTME Examination Slip By Yourself.
How do I Re-Print my Jamb slip for 2023 UTME to know my Jamb exam date, Jamb Timetable and Examination Venue?
The Joint Admissions and Matriculation Board (JAMB) has opened the portal for printing of 2023/2024 JAMB Exam Slip. Applicants can now print their examination slips for their email inbox or via JAMB website. Continue reading for more Details (guideline and Institution) below:
Recommended Links
JAMB/UTME Syllabus For All Subjects/Courses (Science and Art)
List Of Accredited/Approved JAMB CBT Centres For UTME/DE Registration
Complete List Of Universities That Accept 160 and Above in Nigeria
List Of Universities That Accept Second Choice In Nigeria
How To Change JAMB Choice Of Institution, Courses And Date Correction Guidelines
Complete List Of Federal Universities In Nigeria And Courses Offered
How To Create JAMB Profile Online For UTME And Direct Entry Candidates
This is to inform all the candidates that registered for the 2023 Joint Admissions and Matriculation Board (JAMB) Unified Tertiary Matriculation Examination (UTME) that printing of the examination slip has commenced.
The portal for the printing of the JAMB exam slip is two. Either directly through the JAMB portal or through your JAMB Profile.
Jamb sometimes sends the slip through email. In this case, you will need to download the slip on your phone and print it out. But whether or not you get the slip via email, there are other ways to check and reprint your Jamb date slip online.
Candidates are advised to print their slips before the commencement of JAMB Exam, in order to familiarize themselves with the examination schedules as no form of excuse for missing the examination will be entertained.
The reprinted slips will bear candidates schedule for the examination: date, time and centre as well as other necessary information about the examination. Jamb Reprint is compulsory and the procedure is the same for all States in Nigeria.
HOW MUCH WILL IT COST ME TO REPRINT MY JAMB SLIP?
Reprinting should not cost you more than 200 naira, most business centers will charge you 100 or slightly above that.
All you have to do is to locate the nearest business center or you can go straight to the accredited Center where you did your registration.
The easiest way to reprint your Jamb exam slip is through their official portal.
How to Reprint Your UTME Exam Slip Online via JAMB Portal
Reprinting of JAMB registration slip is quite easy.  All you would be required to print your JAMB exam slip that reflect your examination schedule is your registration number. Follow the steps outlined below for the process: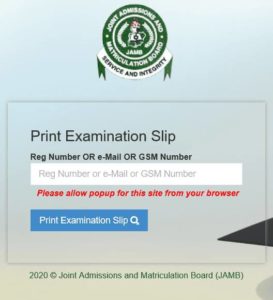 Go to the JAMB UTME e-slip printing page at

https://portal.jamb.gov.ng/ExamSlipPrinting/PrintExaminationSlip

Supply your 

JAMB Registration Number or Email address or Phone number

  in the appropriate column.
Finally, click on '

Print Examination Slip

'  button to access your exam schedule.
Please allow popup for JAMB site (www.jamb.org.ng) from your browser
How to Reprint Your UTME Exam Slip Via Your JAMB Profile Account:
Visit Jamb.org.ng/efacility
Enter your Jamb email address
Enter your Jamb password
Click on Login
Scroll to print UTME Main examination slip
Write your JAMB 

registration number

 in the provided space and
click "˜Re-Print'.
Print out your slip
Done
Related Posts:
Note: You are to print 2 copies of the UTME Examination Slip in Full Colour. You will submit one at the Exam Hall and you have to keep one for reference purpose.
How to Print Your JAMB Examination Slip (via Email)
Step 1: If you get an e-mail from JAMB, simply look for an attachment that comes with the mail. This attachment is a PDF file, named most likely as your JAMB registration number.
Step 2: Download the PDF file to your phone or PC system (Laptop) to ensure you now have it offline. If you have a printer at home, you can simply print the Exam Slip directly from the computer without having to visit the Business Centre/Cybercafe.
Step 3: If you don't have a printer at home, then go to any Business Centre, log into your email, re-download the Exam Slip and ask that an operator should help you print the Exam Slip. Note: Please ask the computer operative in the cyber cafe if their System is connected to a printer before proceeding.
Read Also:
List Of Universities That Accept 180 and Above in Nigeria
Complete List Of State Universities In Nigeria And Courses Offered
JAMB Recommended Textbooks For UTME Examination
JAMB Subject Combination For All Courses (Both Science and Art)
We advise you to bookmark this page and always check here for more guideline and updates.
I believe that with the above tutorial, you now know How to Reprint Your UTME Exam Slip Online/Offline Via JAMB Official Website And Email it's very fast and easy.
Feel free to share this amazing post with your family and friends.