This post will focuse on How Reprint JAMB Exam Slip for current academic session
JAMB reprint portal for the 2020 session will soon be open and active for all registered candidates. To all candidates who have successfully registered for the JAMB forthcoming examination which is scheduled to start 14th March 2020, the JAMB slip reprinting has commenced.
This is to inform all the candidates that registered for the 2020 Joint Admissions and Matriculation Board (JAMB) Unified Tertiary Matriculation Examination (UTME) that printing of the examination slip has commenced
The exam slip which reflects each candidate exam schedule will be available for printing on JAMB portal.
Candidates are advised to print their slips before the commencement of JAMB Exam, in order to familiarize themselves with the examination schedules as no form of excuse for missing the examination will be entertained.
Joint Admissions and Matriculation Board, JAMB Slip re-printing portal for the 2020 Unified Tertiary Matriculation Examination (UTME) has been activated. Applicants can now print their examination slips for their email inbox or via JAMB website. See the procedure on how to print JAMB slip below:
JAMB Slip Reprint Portal.
The JAMB slip reprinting portal for the 2020 UTME exams has been published online. The portal for the printing of the JAMB exam slip is two. Either directly through the JAMB portal or through your JAMB Profile.
The easiest way to reprint your Jamb exam slip is through their official portal.
How Reprint JAMB Exam Slip.
Reprinting of JAMB registration slip is quite easy.  All you would be required to print your JAMB exam slip that reflect your examination schedule is your registration number. Follow the steps outlined below for the process: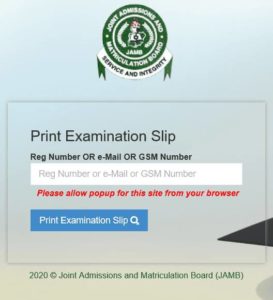 1. Go to JAMB UTME e-slip printing page at https://www.jamb.org.ng/ExamSlipPrinting/_PrintExaminationSlip.
2. Supply your JAMB Registration Number or Email address or Phone number  in the appropriate column.
3. Finally, click on 'Print Examination Slip'  button to access your exam schedule.
Note: Please allow popup for JAMB site (www.jamb.org.ng) from your browser .
HOW MUCH WILL IT COST ME TO REPRINT MY JAMB SLIP?
Reprinting should not cost you more than 200 naira, most business centers will charge you 100 or slightly above that.
All you have to do is to locate the nearest business center or you can go straight to the accredited Center where you did your registration.
JAMB Reprint Date.
UPDATE: The JAMB reprint date is scheduled to start on 7th March 2020. But the board surprised candidates, as it started a day earlier, 6th March 2020.
We advise you to bookmark this page and always check here for more guideline and updates.
This is How Reprint Joint Admissions and Matriculation Board (JAMB) Exam Slip this article will always be updated when an update arises.
Feel free to share this amazing post with your family and friends.