This post will focuse on How To check university of Benin, UNIBEN Post UTME Result for the 2020/2021 academic session
Check out the UNIBEN post UTME results for 2020/2021 Academic Session recently released by the school management of university of Benin.
This is to inform all the candidates that participated in the University of Benin (UNIBEN) 2020/2021 academic session post UTME screening exercise that their results have been released.
university of Benin post UTME results have been successfully uploaded online. Simply follow the procedures outlined below to check yours
University of Benin, UNIBEN Post UTME result for the 2020/2021 academic session is out. Candidates that participated in the screening exercise can now check their results.
How to Check UNIBEN Post UTME Result Online: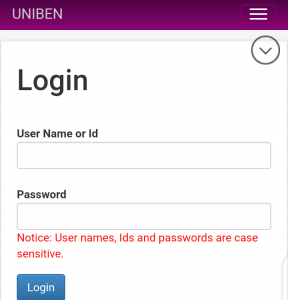 Go to UNIBEN post UTME result checking portal at https://uniben.waeup.org/login
Enter Username/ID and password where required.
Finally, click on login to access your result.
This is How to Check university of Benin (UNIBEN) Post UTME Results Online for the 2020/2021 Admission Session It Free, Fast and easy this article will always be updated when an update arises.
WARNING! All candidates are warned to be careful and avoid people who claim to have the ability and the connection to offer you admission as they all are fraudsters waiting for a chance to rob you of your hard-earned money. Admission is strictly by merit. Success in advance! Do not give money to anybody for admission!!
We advise you to bookmark this page and always check here for more guideline and updates.
About university of Benin (UNIBEN)
The University of Benin was founded in 1970. It started as an Institute of Technology and was accorded the status of a full-fledged University by National Universities Commission (NUC) on 1 July 1971. In his Budget Speech in April 1972, the then Military Governor of Mid-Western State, Col. S. O. Ogbemudia(then also Visitor to the University) formally announced the change of the name of the Institute of Technology to the University of Benin. Optometry program was also founded (established) within the Faculty of Science in 1972 under the headship of Dr.Paul Ogbuehi (department of Physics). By 1976, optometry program in Uniben had on its faculty qualified professional with practice licences from Canada, England, and United States of America. The program had a faculty-student ratio of 2:1, many from College of Medicine and Medical Sciences. earned its accredited On 1 April 1975 the University at the request of the State Government, was taken over by the Federal Government and became a Federal University.
Feel free to share this post on How to Check UNIBEN Post UTME Result Online with your family and friends.