This page will discuss about the School fees of Lagos State University, Ojo popularly known as (LASU).
LASU School Fees: The school authorities of the Lagos State University (LASU) has published the amount payable as school fees by the newly admitted and returning students for the 2023/2024 academic session.
This is to inform the general public especially Lagos State University, LASU prospective Students to check amount payable as School Fees for 2023/2024 academic session.
Lagos State University (LASU) was established in 1983 by the enabling Law of Lagos State of Nigeria, for the advancement of learning and establishment of academic excellence. The university also offers courses at Diploma, Undergraduate and Postgraduate levels. LASU is the only state university in the former British colony.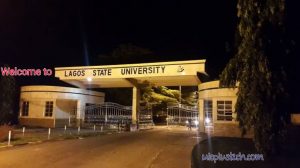 Check out the LASU School Fees Schedule for the current academic session recently released by the Management of the institution.
Read Also:
WHAT IS SCHOOL FEES
School fees is a fee charged to students at a school, college, university or other place of learning that is in addition to any matriculation and/or tuition fees. It may be charged to support student organizations and student activities (for which it can be called an activity fee) or for intercollegiate programs such as intramural sports or visiting academics; or, at a public university or college, as a means to remedy shortfalls in state funding (in which case it can often be called a technology fee). Further fees may then be charged for features and facilities such as insurance, health and parking provision.
How Much Is LASU School Fees?
The amounts to be paid as school fees by the new and returning undergraduate students of the Lagos State University for the 2023/2024 academic session have been announced.
All New And Returning Students of Lagos State University (LASU), Ojo are advise to confirm their School Fees for current academic session.
LASU School Fees Schedule For New And Returning Students
Below Is The Breakdown Of Lagos State University Undergraduates School Fees Schedule For The Current Academic Session.
Recommended Links:
LASU Jamb And Departmental Cut Off Mark For All Courses
How To Apply For LASU Post UTME/Direct Entry Screening Form Online 
Complete List Of Courses Offered In LASU And Admission Requirements  
LASU Acceptance Fee Amount And Payment Procedure For Newly Admitted Students
NEWLY ADMITTED STUDENTS TUITION FEE:
Regular (Without Entrepreneurship Training) <> Fifty-Seven Thousand Fourty Eight Naira (₦57,048).
New Special Programme (Regular with Entrepreneurship Training) <> One Hundred and Fifty Thousand (₦150,000).
RETURNING STUDENTS TUITION FEE:
Old Students are expected to pay Twenty-Five Thousand Naira (₦25,000) Per Session until they graduate from the institution.
This purpose of this listed school fees above for the Lagos State University is to assist you propose and budget your self, we've seen a lot of students who faced unplanned financial challenges while in school, majority of them even had to drop out in school because of financial problems
Lasu School Fees Payment Procedure/Process
Would you love to pay the Lasu school fees online? Then you can do this through the institution's official website, on your dashboard.
Every newly admitted student or old returning student can easily pay LASU school fees through the school website. For you to successfully pay your school fees through lasu.edu.ng, kindly follow the steps/guidelines as outlined below carefully:
The first step is to visit the official lasu website, which is www.lasu.edu.ng.
When it loads up, Go to "Student" on the main page.
You are expected to click on "payment service"
When the payment service loads up on your screen, you are required to select "type of payment"
You will be required to type in your matriculation number, select your degree program type e.g- undergraduate.
Then, click on continue and you will see payment ID, copy the number and proceed to any bank.
OR
Log on to LASU payment platform https://www.lasu.edu.ng/tsa/epayment/default_new.php to make payment.
Note that late payment would attract extra charges and failure to pay the fees on time would lead to the student inability to seat for their semester examination.
We advise you to bookmark this page and always check here for more guideline and updates.
See Also: How To Check LASU Admission Status
I hope you have carefully read and understand the actual amount payable as LASU school fees and payment procedure for new and returning students.
Feel free to share this amazing post with your family and friends.
DISCLAIMER: Please take note that this article only takes cognizance of what the school fees are at the time of writing. If there are already changes to the school fees, please understand and if possible, leave a comment indicating the changes, so that this page can be updated.