This page will discuss about the acceptance fee payment of Lagos State University popularly known as (LASU)
This is to inform all the newly admitted candidates of the Lagos State University, Ojo, that the management has released the admission acceptance fee payment procedure for the 2020/2021 academic session.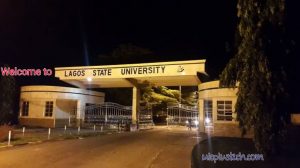 LASU Acceptance Fee – The amount to be paid as admission acceptance fee by the newly admitted students of the Lagos State University (LASU) for the 2020/2021 academic session has been released as well as the payment procedure.
When you apply to a particular university especially through the Joint Admissions and Matriculation Board (JAMB) either for full time or direct entry and you check your JAMB CAPs or JAMB Portal and discovered that you have been admitted, then the first step to take is to Accept or Reject the admission give to you by JAMB
What Is Acceptance Fee
Acceptance fee means the fee you pay to secure your admission slot for any particular admission year like in 2020 as we are currently considering.
Check out: Lagos State University Admission List
ALL successfully admitted candidates, who are yet to accept their admission offer, are to IMMEDIATELY login on to LASU admission portal to accept the offer.
ANY CANDIDATE, WHO DOES NOT ACCEPT, FORFEITS THE PROVISIONAL ADMISSION OFFER AND WILL NOT BE PROPOSED ON JAMB CAPS.
Kindly ENSURE you update your 0/Level results(s) at a JAMB accredited CBT Centre.
Kindly ENSURE you change your course on your JAMB CAPS account to the course you were offered in LASU (if the courses are different) for this provisional offer to be valid.
If you have completed steps 1-3 above, proceed to Login to your JAMB CAPS account to ACCEPT the Admission offer AND
Thereafter, proceed to LASU Payment Portal for Payment of Acceptance and Medical Fees (THIS IS APPLICABLE TO ONLY STREAM 1).
Therefore, if you decide to reject the admission, then there will not be need to be talking about acceptance fee as the next point of call in this article but if you accept the admission, then you will need to pay a certain amount to show that you have accepted the admission given to you and that there is no need to for the school to complain to JAMB to gift another candidate that admission slot
LASU Admission Acceptance Fee Amount
all successfully admitted candidates in the 2020/2021 Lagos State University admissions exercise (100 Level and Direct Entry) are expected to pay a NON-REFUNDABLE ACCEPTANCE FEE of N20,000.00 together with the MEDICAL SCREENING FEE of N10,000 only. 
Recommended Links
Follow the payment steps/guidelines as outlined below:
Payment Procedure.
Visit LASU New e-payment portal: https://www.lasu.edu.ng/tsa/epayment/default_new.php
Supply the following information on the new e-payment portal:
Matric No/UTME Reg No: Your 2020 UTME Registration Number
ID Type: Student/Alumnus
Campus: Main
Study Type: Full-Time Undergraduate
Purpose: Undergraduate Acceptance Fee
Current Valid Email Address: Please use ONLY your personal valid and current email address
Current Valid Phone No.: Please use ONLY your personal valid and current GSM number
Click on Submit
The new page will display your records and amount payable.
Click on Submit button to continue the process.
Click on Make Payment to effect the payment on REMITA payment platform
Make use of any desirable payment options on the Remita platform to effect the payment and keep safely your RRR code and the Transaction Receipt sent to your email after successful payment.
Late payment would attract extra charges and failure to pay the fees on time would lead to the student inability to seat for their semester examination.
DISCLAIMER: The entire public is to please NOTE that the Lagos State University WILL NOT be responsible for any payment made to any individual/account or platform aside the one stated above.
STUDENTS' UNDERTAKING FORM
ALL admitted freshmen are required to download and complete the "Students' Undertaking Form". The form is available at
https://www.lasu.edu.ng/news/letter_of_undertaking.pdf
This form will be submitted along with other documents during the Central Admissions Clearance exercise
Registration Procedure for newly admitted LASU students
STEP ONE
Visit LASU website lasu.edu.ng.
Point to STUDENT SERVICES
Drag the mouse cursor to UNDERGRADUATE STUDENTS' REGISTRATION
Drag to and click on NEW STUDENTS (UPDATE PERSONAL DATA)
Enter your UTME Registration Number (in the column for Matriculation Number)
Enter your Surname in the Column for Surname
Click on SUBMIT button
STEP TWO
On the displayed page, enter your UTME Registration Number (in the column for Matriculation Number)
In the column for COURSE ADMITTED INTO, drop down the arrow and select the course you were CLEARED for, during the 2020/2021 Admission Screening of the newly admitted students.
STEP THREE: COMPLETION OF THE MAIN REGISTRATION FORM
Here, the student's profile containing the student's names and O'Level examination details will be displayed.
Click on PROCEED button to update the STUDENT'S PROFILE.
NOTE: On the column for USERNAME, you are required to enter your JAMB/UTME REGISTRATION NUMBER into it.
Select 2020 as your Year of entry
STEP FOUR: REGISTRATION AS A RETURNING STUDENT
All New students who have completed steps 1 – 3 above would be automatically taken to the registration portal for course registration.
However, if you are not sure of the courses to be registered, you are advised to log out and visit the returning students' registration portal as soon as possible and especially before the eventual closure of registration portal by following this procedure:
Visit LASU website lasu.edu.ng
Point to STUDENT SERVICES
Drag the mouse cursor to UNDERGRADUATE STUDENTS' REGISTRATION
Drag to and click on COURSES REGISTRATION
Enter your UTME Registration Number (in the column for Matriculation Number)
Entre your Surname in the Column for Surname
Click on SUBMIT button
Click on COURSE REGISTRATION to register your courses
We advise you to bookmark this page and always check here for more guideline and updates.
See Also: Lagos State University Calendar
Note:
ALL STUDENTS SHOULD BE DULLY INFORMED THAT THE "ADD" OR "DELETE" FUNCTIONALITY ON REGISTERED COURSES IS AVAILABLE ONLY DURING THE APPROVED PERIOD OF REGISTRATION.
HENCE STUDENTS MUST ENSURE THE CORRECTNESS OF THEIR COURSES (BOTH COURSE CODE AND TITLE) BEFORE PROCEEDING ONLINE FOR COURSE REGISTRATION.
'USE OF CELL-PHONE FOR COURSE REGISTRATION IS NOT ADVISEABLE'.
After completing the registration of all available/registrable courses, students are expected to print the following and keep the printouts in safe custody after the HOD's endorsement:
Student's Main Registration Form
Course Form for Harmattan Semester
Exam Slip for Harmattan Semester.
Student's ID card data form
Transaction Receipt
Old Course Forms (also available for printing by returning students who have paid the school fees for the current session)
I hope you have carefully read and understand the actual amount payable as LASU Acceptance Fee And Registration Procedure For Newly Admitted Students
Feel free to share this amazing post with your family and friends.