The list of courses offered by Nnamdi Azikiwe University, Awka (UNIZIK) are displayed on this page. Candidates who wish to apply through JAMB should click on any of the courses to see the course requirements.
Nnamdi Azikiwe University, Awka also called UNIZIK or NAU in short is a Federal university in Nigeria. It consists of three campuses in Anambra State. Its main campus is located in the capital of Anambra State, Awka while two other campuses are located in Nnewi and Agulu, Anambra State. It is one of the federal universities which are overseen and accredited by the National Universities Commission. The university is named after Dr. Nnamdi Azikiwe.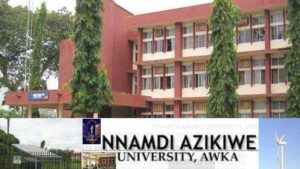 Nnamdi Azikiwe University, Awka has been official accredited and/or recognized by the National Universities Commission (NUC), Nigeria.
Do you want to find out the list of courses you can study at the Nnamdi Azikiwe University, Awka (UNIZIK)? Below are the list of high-quality courses on offer at the Nnamdi Azikiwe University, Awka.
We have gathered the official list of courses offered in Nnamdi Azikiwe University, Awka (UNIZIK) to enable prospective candidates to have knowledge of the various accredited courses available in this University. We believe that this article will be of help to prospective UTME candidates in their choice of University as well as the courses they would want to study.
UNIZIK Courses and Requirements
Requirements
Candidates must possess a minimum of 5 credit passes in relevant subjects which must include English Language and mathematics at GCE O'Level, WASCE, SSCE, NECO or approved equivalents at not more than 2 sittings.
Candidates with Teachers Grade II (TC II) with passes at credit or merit levels in conjunction with credit passes in relevant subjects at GCE, WASCE, SSCE, NECO or approved equivalents may be considered. No subject may be counted at both TC II and GCE O/Level, WASCE, SSCE, NECO or approved equivalents.
The candidate must make at least 200 pass mark in JAMB to qualify for internal screening by the Nnamdi Azikiwe University
Available Courses
We have put together a complete list of all the courses offered presently in the Nnamdi Azikiwe University.
ACCOUNTING
ADULT EDUCATION
AFRICAN AND ASIAN STUDIES
AGRICULTURAL AND BIORESOURCES ENGINEERING
AGRICULTURE
ANATOMY
APPLIED BIOCHEMISTRY
APPLIED MICROBIOLOGY AND BREWING
ARCHITECTURE
AUTO AND MECHANICAL TECHNOLOGY EDUCATION
BANKING AND FINANCE
BIOLOGICAL SCIENCES
BOTANY
BUILDING
BUILDING AND WOODWORK TECHNOLOGY EDUCATION
BUSINESS ADMINISTRATION
BUSINESS EDUCATION
CHEMICAL ENGINEERING
CHEMISTRY
CHINESE STUDIES
CIVIL ENGINEERING
CIVIL LAW
COMPUTER SCIENCE
COOPERATIVE ECONOMICS AND MANAGEMENT
EARLY CHILDHOOD AND PRIMARY EDUCATION
ECONOMICS
EDUCATION AND BIOLOGY
EDUCATION AND CHEMISTRY
EDUCATION AND COMPUTER SCIENCE
EDUCATION AND ECONOMICS
EDUCATION AND ENGLISH LANGUAGE
EDUCATION AND FRENCH
EDUCATION AND IGBO
EDUCATION AND INTEGRATED SCIENCE
EDUCATION AND MATHEMATICS
EDUCATION AND PHYSICS
EDUCATION AND POLITICAL SCIENCE
EDUCATION AND RELIGIOUS STUDIES
EDUCATIONAL FOUNDATIONS
EDUCATIONAL MANAGEMENT AND POLICY
ELECTRICAL ENGINEERING
ELECTRICAL/ELECTRONICS EDUCATION
ELECTRONICS AND COMPUTER ENGINEERING
ENGLISH LANGUAGE AND LITERATURE
ENTREPRENEURSHIP
ENVIRONMENTAL HEALTH SCIENCE
ENVIRONMENTAL MANAGEMENT
ESTATE MANAGEMENT
FINE/APPLIED ARTS
FOOD SCIENCE AND TECHNOLOGY
FORESTRY AND WILDLIFE
FRENCH
GEOGRAPHY AND METEOROLOGY
GEOLOGICAL SCIENCES
GEOPHYSICS
GUIDANCE AND COUNSELLING
HEALTH EDUCATION
HISTORY
HUMAN KINETICS
INDUSTRIAL PRODUCTION ENGINEERING
LIBRARY AND INFORMATION MANAGEMENT
LINGUISTICS
MARKETING
MASS COMMUNICATION
MATHEMATICS
MECHANICAL ENGINEERING
MEDICAL LABORATORY SCIENCE
MEDICAL REHABILITATION
MEDICINE AND SURGERY
METALLURGICAL AND MATERIAL ENGINEERING
MODERN AND EUROPEAN LANGUAGES
MUSIC
NURSING/NURSING SCEINCE
PARASITOLOGY AND ENTOMOLOGY
PHARMACY
PHILOSOPHY
PHYSICAL AND HEALTH EDUCATION
PHYSICAL EDUCATION
PHYSICS/INDUSTRIAL PHYSICS
PHYSIOLOGY
POLITICAL SCIENCE
POLYMER AND TEXTILE ENGINEERING
PSYCHOLOGY
PUBLIC ADMINISTRATION
PURE AND INDUSTRIAL CHEMISTRY
QUANTITY SURVEYING
RADIOGRAPHY
RELIGIOUS AND HUMAN RELATIONS
SCIENCE EDUCATION
SOCIOLOGY
STATISTICS
SURVEYING AND GEOINFORMATICS
TECHNICAL EDUCATION
THEATRE ARTS
ZOOLOGY
This is Requirements and list of courses offered in Nnamdi Azikiwe University, Awka (UNIZIK) this article will always be updated when an update arises.
We advise you to bookmark this page and always check here for more guideline and updates.
Feel free to share this amazing post with your family and friends